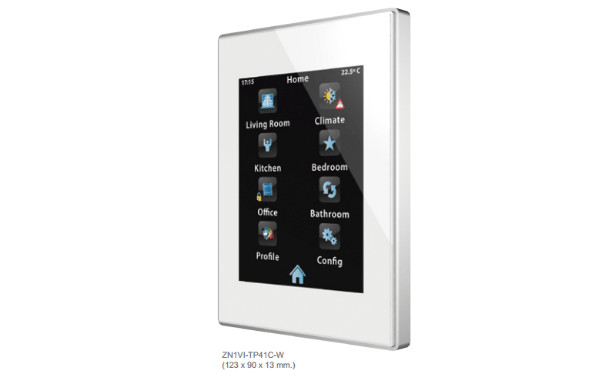 In Zennio Z41 touch screen is a capacitive touch panel that represents a new breakthrough in digital home control.
A minimalist aesthetic dominated by the simplicity and flat forms as well as their banked format, facilitates their integration in environments of work and rest, achieving a design adaptable to any style of interior. The 4.1 "(3 x 4) color display facilitates its use allowing a communication distributed within the intelligent home. It includes internal clock with battery and USB port for unloading of programming. It includes IP connection.
InZennio Z38i touch screen means a step more in communication with our home.
An aesthetic of minimal forms dominated by the simplicity and flat forms, facilitates the integration of communication with environments of work and rest, achieving a timeless design.
The Display 3.8 "square format facilitates handling and enjoyment, getting a communication distributed within the intelligent home. Available in: polar white (ZN1VI-TP38i-W), aluminum (ZN1VI-TP38i-S) and anthracite (ZN1VI-TP38i-A). Optional remote control.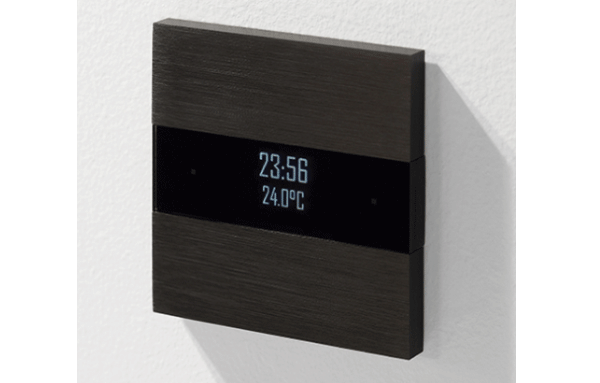 The basalte Deseo range elegantly combines functionality and sleek minimalist design.
There're four high-sensitivity tactile surfaces that allow set up operation and menu navigation.
Basalte deseo allows control of light, stays, blinds, climate and even the home multi-room system, reacting to the slightest touch.
It has temperature sensor, OLED display and is KNX compatible.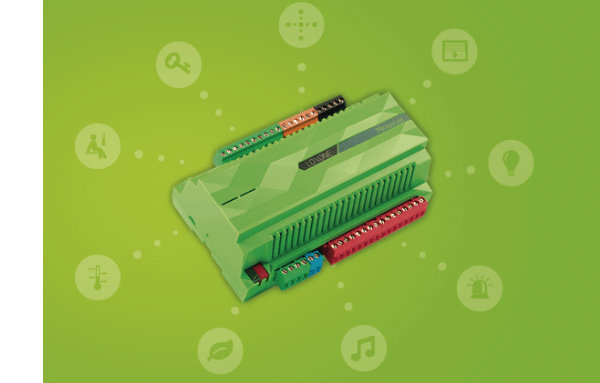 Miniserver Loxone
Lighting, blinds, heating, audio or the burglar alarm, everything you want to control. Intelligent control with the Loxone Miniserver possibilities are endless, see for yourself and decide what you would like for your home:
All included
With a single Miniserver you can, for example, control 2 blind, 4 channels dimming lighting, 2 channels on/off lighting and 4 climate zones.
A Powerful Software

Powerful Software configuration with numerous functions which allows easy programming of the control system.
Loxone Config can be downloaded free of charge to help you configure your system. It includes powerful logical functions to professionals.
Loxone Apps
Control your home wherever you are with our free Apps for your iPhone, iPod Touch, iPad and Android devices.
Whether the blinds, lighting, heating, take control wherever you are. You can use the applications with absolutely everything that has been automated with Loxone.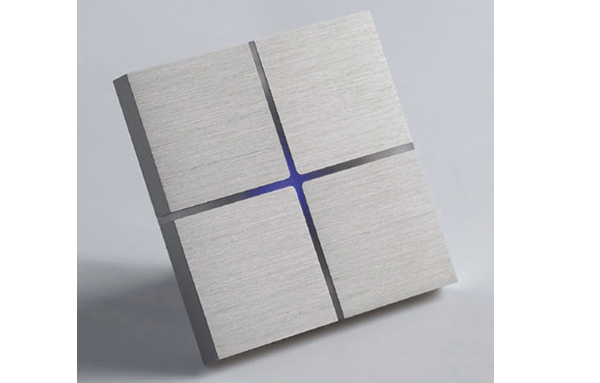 Sentido
With Sentido we've reinvented the switch. Therefore, the basic idea of Sentido is as simple as innovative.
Multi-touch functions allows you to play more than one surface at the same time turn on or off all the lights in a room, making the lighting control something intuitive and easy to use.
It has an integrated temperature sensor that reports discreetly temperature to the automation system, while LED lighting can be used to guide in the darkness, know the state or sense to display in the dark.
Compatibility with conventional systems, KNX, AMX and Crestron.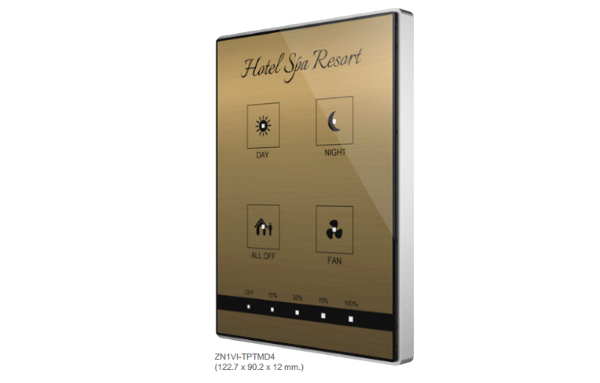 Touch-MyDesing
Touch-My design is a capacitive KNX button that satisfices the requirements of design of any project by its total personalization.
Anyone can create unique compositions including images, icons, text as well as deciding a horizontal or vertical installation. Your personalization is based on a professional printing on high resistance tempered glass. Author's design is completed with a shocking beauty anodized aluminum frame.
The available formats are four, six and eight touch buttons that can be used as custom controls with led indicators. TMD has 5 LEDS that can be used as additional buttons to assign direct functions. It also includes the function of thermostat with integrated temperature sensor and 2 great functionality analog-digital inputs. The installation is performed in standard flush-mounted boxes.